CauseBecause

Semicircle 


From idea to impact
 20 SEPTEMBER 2019 | New Delhi
An interactive get-together to rethink your organisation's growth strategy

A

fundamental objective of CauseBecause is to support social-sector organizations in scaling up their impact-making initiatives. On the strength of their decade-long experience and engagement in the development-communication domain, Team CauseBecause has identified practical solutions to most of the issues faced by non-profit entities. Semicircle has been conceptualised precisely to share these solutions with organisations.

THE COMMON CHALLENGES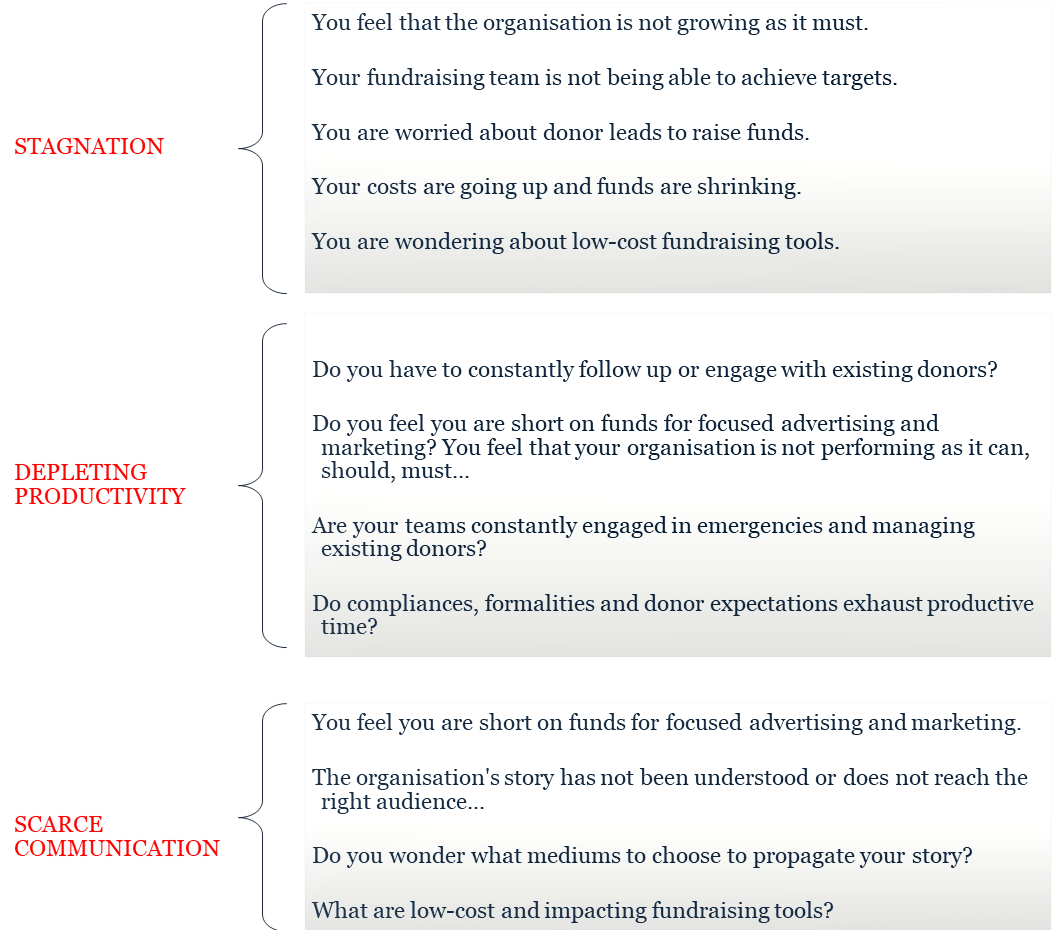 DISCUSSION POINTS
The Zero Hour – Know your domain
i. Introduction to the social space
An overview of opportunities, scope and challenges in CSR domain
The First Hour – Your identity
i. What your team speaks (and what it feels)
The thought, the goal, the vision, the energy, and the promise
ii. Content – the organisation's story
What's being communicated – identification of content of all forms that speak about what the organisation does
iii. Perception
How the organisation is perceived by external stakeholders, especially beneficiaries, community influencers and donors
 The Second Hour – Scaling-up strategy

i. Goal setting

Almost nothing is impossible – revisiting notions, from mindset to toolset
ii. Identifying partners
Who supports your story, who may and who may not, and why?
iii. Reaching out
What message, to whom and how – essential communication tools 
 The Third Hour – Automation and AI
i. Compliances, formalities and routines
Strategy to automate and streamline chores and routine formalities
ii. Ongoing projects
Monitoring, updates, reports, evaluation and impact stories
The Conclusive Hour – Begin from where
i. A step-by-step guide
Elements needed for conceptualising and implementing the strategy
WHO SHOULD ATTEND?
Founders, trustees, directors at non-profit entities
Fundraising lead
Communication lead
Campaign planners
Outreach & partnerships lead
REGISTRATION
CauseBecause organises Semicircle either for one organisation's team at their office or for representatives of various organisations at a common venue. The registration fee structure varies accordingly.
The one-time registration fee per participant is Rs 7,000 + 18% GST. Hundred per cent of the same is to be paid in advance.
Semicircle can also be customized as per your team/cross functional teams' need. CauseBecause remuneration varies as per content type and team size. The base fee for customized Semicircle is reserved at Rs 40,000 + GST.

 

For discussion and presentation, please contact:

Team CauseBecause
Saucepan Media Pvt. Ltd
G1423, LGF, CR Park |New Delhi – 110019
Phone: 91 11 40532977 | Email: admin@causebecause.com