It would only be a slight exaggeration to state that driving on Indian roads is akin to a death sentence. The number of road accidents in India has been on a steady high the past years. In 2015, these accidents claimed over 1.46 lakh lives and injured over 5 lakh people. This means that over 400 people are killed in nearly 1,400 accidents every single day, making Indian roads one of the world's most unsafe and road accidents one of the biggest killers in the country.
In terms of fatalities, per 100,000 population, only Russia does worse (2013 data); as for monetary loss (if human lives aren't worthy enough), a UN Economic and Social Commission for Asia and the Pacific (UNESCAP) study found that India's GDP takes a 3 per cent hit every year due to road accidents. While India accounts for a mere 2 per cent of global motor vehicles, it contributes over 10 per cent to global road traffic deaths. The single largest factor for these accidents has been attributed to driver negligence, accounting for 77.1 per cent of total road accidents in 2015. Anyone brave enough to battle Indian roads after daylight can testify to that.
While there is a woeful lack of road safety legislations and enforcement by the government, the proposed road safety policy includes awareness and education as some of the key features. This is what many companies have decided to take up as part of their overall CSR policies. Not surprisingly, auto companies have taken the lead.
On the government front, aside from the rule of law, initiatives like the annual Road Safety Week (usually around the second week of January) are undertaken. This year, the ministry of road transport & highways organised the 28th Road Safety Week from 9th to 15th January. Aside from workshops and campaigns, what stood out were the launches of two mobile apps – e-Challan and m-Parivahan – during the week. e-Challan was promoted as a user-friendly digital solution for transport enforcement and management. The idea is to connect all stakeholders through a common system ensuring transparency and accountability. The m-Parivahan is a citizen-centric app that facilitates easy access to various transport-related services including providing for virtual driving license and registration certificate. Traffic accidents and violations can also be reported through the app by concerned citizens.
Interestingly, earlier this year, the union minister of road transport & highways and shipping, Nitin Gadkari, stated his intention to ask corporates including all major automobile companies to promote road safety as part of their CSR. His request also included these companies providing ambulances for highways and funds for upgrading and constructing trauma centres along highways. One will have to wait and see if those requests are met.
For now, here's what these companies are doing for road safety.
Hero 
For Hero MotoCorp, safety is one of the core principles of their CSR strategy and is regarded as 'a fundamental human right'.  Aside from their CSR work in this area, there is a department solely dedicated to planning and executing safety-related programmes and activities. Vijay Sethi, CIO and head of CSR, Hero MotoCorp, explains: 'The objective of this team is to engage in activities that ensure safer behaviour, safer mobility and safer vehicles. To complement these efforts, a considerable part of our CSR investments is focused on road safety.'
One of their flagship CSR programmes is Ride Safe India, which aims at raising awareness and information dissemination regarding road safety – this is done on a continuous basis, instead of as a one-off event. This is done through road safety slogans, campaigns, social media content, blogs, etc. The initiatives under Ride Safe India are: training programmes and safety education at traffic parks (98,065 participants till 2015–16), collaborations with government agencies such as the Road Safety Club (RSC) with Delhi Police, and Student Police Cadet (SPC) projects with students as the ambassadors of road safety. As of 2015–16, safety messages were received by 39,046 people during the National Road Safety Week, and information disseminated to a further 22,150 individuals through 252 rallies and safety walks.
As Sethi reiterates, 'Safety has been embedded in Hero MotoCorp's overall strategy. Ever since we started rolling out two-wheelers on Indian roads, the essential message of "ride safe" has been realised in each of our products and activities. As much as we have been focusing on increasing mobility and connectivity to bring about the much-needed economic boost at the grassroots, equal efforts have been made to ensure that the mobility does not come at the cost of safety. Safe mobility is important not just for better living standards; it is also a fundamental human need.'
Hero's Student Police Cadet (SPC) programme is a student-focused initiative with the explicit goal of making students the promoters and ambassadors of road safety. The simple idea is that the youth can be the change agents and influencers for responsible behaviour on the road. The programme is currently being piloted in Gurugram (NCR) and involves sessions on road safety, traffic management, community development skills, leadership skills, disaster and waste management as well as outdoor activities. Till last year, 2,200 students from six Gurugram-based schools were enrolled in association with Haryana Police. This is a unique initiative that deserves to be scaled up.
Honda
Hero's erstwhile better (or worse) half, Honda Motors uses a three-pronged strategy when it comes to road accidents – prevention, minimising negative fallouts, and driving safety-related promotion activities. Specially built machines such as the Honda Riding Trainer help drivers navigate real-world traffic situations in a safe, simulated environment. This allows drivers understand the intricacies and unpredictabilities of the actual world where accidents happen in the blink of an eye. There are currently 125 such trainers in the country, functioning across numerous locations like schools, colleges, RTOs and exhibitions, and in partnership with government agencies and traffic police. Like other auto companies, Honda's key focus area is education – for its instructors, dealers, riders and students. Rallies, message boards and awareness campaigns have been held, a recent example being the 2016 road safety promotion drive at India International Trade Fair (IITF) where more than 4,000 individuals participated.
Toyota
Toyota Kirloskar Motor's (TKM) work in this field adheres to the standard tenets followed by other auto companies. The company has been engaged in various road safety initiatives since 2005 through pan-India campaigns, accounting for approximately 20 per cent of the overall CSR budget and touching around 7 lakh people. Important stakeholders like their dealers and suppliers are also taken on-board. The CSR-ification of its safety mission, 'Safest Car, Safest Driver', manifests in plenty of awareness campaigns like the Toyota Safety Education Programme, which educates school children and teachers on road safety etiquette. Launched in 2007 at Bengaluru, the programme includes an interactive course on traffic safety, a film, traffic safety games, and other friendly formats. Earlier this year, the revised module was introduced in Police Public School KSRP Campus and Deeksha High School in Bengaluru, with students leading the way in raising awareness among the public. To date, about 680,000 school children have been positively impacted through this initiative.
Another flagship programme comprises the driver training programmes and health check-up camps – the latter had its second edition for airport taxi drivers at New Delhi International Airport and it focused on encouraging responsible driving at all times, defensive training, and sessions on traffic control devices and legislations. Similar programmes have been held in places like Bengaluru and Hyderabad, with over 5,000 drivers participating since 2014.
The Toyota driving schools, established across India in cities like Kochi, Lucknow, Hyderabad, Kolkata and Chennai, combine driving expertise together with safety lessons and the requisite behavioural training with the latest training models, such as the driver simulator mechanism. Other initiatives are seminars, the Toyota 'caravan' with sessions on safety, and safety awareness in highways through signages. Impact assessment is done through their Plan Do Check Act process, and KPI and ROI metrics are used to measure efficiency. In terms of safety functionality in their cars, Toyota has already been leading the way with their anti-lock braking system, standardised air bags and child lock systems. The guiding principle here is safest cars with safe driving practices.
Mercedes Benz
Mercedes Benz's Safe Roads initiative is an annual road show exhibition which started in 2015 and is done in partnership with its India corporate entity Daimler. It attempts to educate people on traffic safety through physical demonstrations, visual aids and research reports. Physical exhibits like the Belt-Slide which enables visitors to experience the impact of seat belts in a simulated crash environment at low speed, actual crashed cars, airbags, and alcohol goggles that let the viewer experience the sensation of the common 'walk the line' activity when inebriated can be quite engaging for the audience (over 43,000 people used these exhibits). The Safe Roads exhibition has travelled to all major metropolitan cities. Including social media responses, the safety messages have touched about 10 million people as per the company's claims.
Tata Motors
Although Tata Motors doesn't have road safety as one of its stated CSR goals, it does some work in this domain, in particular represented by the eight commercial vehicle driving centres designed to provide safe driving training. This it does in partnership with government agencies and NGOs, such as the district administration in Singrauli and Pratham. Tata's involvement includes providing training content (audiovisual-based) and guidance, monitoring the quality, and networking with potential employers for trained drivers. Until 2013, over 700 individuals were trained and 7,000 existing drivers were provided refresher training. Tata also started participating in the annual Road Safety Week in 2015, holding rallies and awareness drives. It started a 'iDrive Safe' campaign five years ago with the main audience being employees, company and contracted drivers, and other stakeholders (20,000 to date as per numbers shared by Tata), to create awareness among them with necessary education and training—such as 'defensive driving' training. 'Train the trainer' sessions have helped in capacity building and this has ensured that school and college students also benefit from these sessions. In terms of measuring the impact of these initiatives, the company uses leading indicators such as the number of defensive driving training given and road safety sessions, while the lagging indicator is the number of road-related incidents. For Tata, the 'people' component is the most critical one when it comes to road safety and they see it as something that needs to be taught to children from a young age, perhaps incorporating it in the school curriculum.
Hyundai
For Hyundai, road safety is a critical piece in its CSR policy and strategy. Its flagship road safety programme is the 'Safe Move – Traffic Safety' campaign, launched in 2015 in association with the ministry of road transport and highways. The main goal here is to educate young children about the importance of road safety in a manner that piques their interest. Till now, the programme has reached out to over 90,000 students and 100,000 residents across 142 schools and 146 RWAs in 11 cities. Hyundai observes Road Safety Week with this campaign across its pan-India service network, reaching out to the 7 million Hyundai car owners, its service network and dealers along with outreach camps near residential colonies, office parking, malls, colleges and petrol pumps. Free car check-ups and discounts on safety-related parts and labour charges are also offered. Safety films promoting the message of road safety have been released with the message #BeTheBetterGuy in order to expand its reach to a mass base. For Puneet Anand, GM & group head – marketing, Hyundai India, 'Community efforts should be made to bring about behavioural change among the masses.' And that seems to be the current thrust of Hyundai's initiatives.
TVS
Strangely enough, TVS Motor's CSR policy doesn't mention road safety at all. Which kind of explains why there are zero initiatives under this noble mission.
And the rest
Auto ancillary companies are active in this space. JK Tyre has been engaged in road and tyre safety for a few years now, with its primary initiatives being 'responsible driving' trainings to long-distance truck drivers and road safety awareness among school children and the general public. Over the past 6 years, JK Tyre has trained about 11,000 school-bus drivers across 426 schools and 40,000 truck drivers, and conducted inspection of more than 11,500 school buses. This year it partnered with the Delhi Traffic Police and the Society of Indian Automobile Manufacturers (SIAM) for the Road Safety Week. Some of the activities organised were awareness camps, street plays and walkathons, the main theme being safe driving and giving first right of use to pedestrians. The company spends about five per cent of its overall CSR budget on these projects.
Then there are the non-usual suspects, companies outside the auto industry who have taken up road safety as one of their social causes. Jaslok Hospitals is one – this year it observed its Road Safety Week in association with RTO. The campaign included free first-aid training for taxi drivers, school teachers, etc., free eye check-ups for the RTO staff, and a 'no honking' campaign.
Others like Ashoka Buildcon, one of the country's largest highway developers, have a more direct stake in improving road safety. To this end, the company has conducted hundreds of road safety awareness campaigns, with the 600th edition being touted as a Guinness World Record for the 'largest road safety lesson' with 2,700 participants. The annual road safety campaign was formally launched three years ago and the numbers seem impressive – lessons conducted in 600 schools in 17 cities with over 280,000 participants, reflective stickers pasted in over 12,000 vehicles, and 75 free eye/health check-up camps with 6,900 people benefiting. The Ashoka road safety app has features such as location tracking, speeding alert and panic alert. Collaborations with government bodies include donating alcohol breath analysers and speed detectors to police departments, and initiatives to make highways safer. Ashoka has also invested in replacing its human flagmen with artificial ones since the former are exposed to high risk when working in construction sites. Road accidents in Ashoka Buildcon highways have come down by about 35 per cent, compared to 2014.
NGOs have also joined the fray. During this year's Road Safety Week, Safe Kids Foundation (a member of Safe Kids Worldwide) launched the 'Let's Sketch for Road Safety', a cartoon book educating children on road safety. The event featured prominent names like the Maharashtra government's chief secretary, Mumbai Commissioner of Police and Joint Commissioner of Police (Traffic), and actor Amitabh Bachchan. Also launched were 10 new poster designs on road safety, 10,000 of which were distributed to 750 schools and colleges in Mumbai. As per a study commissioned by the NGO, one in every three teenagers is distracted due to the use of electronic products and hence the necessity of educating them on basic road safety measures. Over 100,000 children and youths in Mumbai were engaged in awareness session about the dangers of being on their phones while walking and the importance of wearing helmets.
Some partnerships for this cause may seem surprising at first but end up making good sense once you actually take time to think about it. A case in point is United Spirits (of the Diageo group) and Essar Oil joining hands to promote the need for road safety. The two companies have had a fruitful partnership since the last three years. Their road safety programmes have covered 23 states and 53 cities, with 4,000 police officials trained on traffic regulations, enforcement of drunk-driving offences, and the correct usage of breath analysers; and 5,000 commercial vehicles drivers educated about the many perils of drunk driving. During the Road Safety Week this year, the two companies announced their initiative to create awareness among commercial vehicle and truck drivers through a combination of on-ground and digital activity. Essar Oil's many petrol pumps dotting the Indian highways will be where the action is. Drivers will be educated on different aspects of road safety, particularly drunk driving. Training sessions will be conducted for first responders to help accident victims, with the support of Institute of Road Traffic Education (IRTE) and All-India Institute of Medical Sciences (AIIMS).
The 'ride sharing' economy in India has been led by Uber and Ola but road safety has seen little of that frenzied action. Last year, Ola launched their 'We Care, We Share' initiative, a healthy-living awareness campaign for its driver-partners in Pune. Aside from periodic health check-ups and basic health supplies, a 15 minutes spa session was organised for the drivers and their families. Quite generous.
CB view
For Pradyumna Pandey, CSR head at JK Tyre, 'The need of the hour is to address the inherent antipathy in all of us and to make sure that road safety is understood at a young age, starting from schools themselves.' Road safety is an issue that affects each one us, irrespective of location, class or any other factor, and while there is no one solution, any work to address it should be welcome, including those taken up by corporates. As Naveen Soni, vice president at TKM, puts it, 'Every corporate organisation should come forward to partake in the road safety initiatives by doing their bit in ensuring safer roads in India.'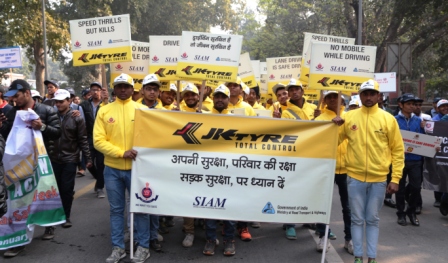 That being said, it is difficult to shake off the 'seen that, read that' feeling when going through the exact nature of these initiatives. One doesn't need to be a discerning observer to see that most take the shape and form of raising awareness through rallies and sessions, with the bulk of the work being during the annual Road Safety Week in January. Nothing wrong with participating in the one week that's dedicated to this cause; however, when this becomes the peak activity period with the rest of the year in a deep slumber, that's neither ideal nor useful. Educating people is the right strategy choice, investing in one-off events is not. Much more can and should be done in terms of public campaigns, ads, social-media speak, and even massive billboards on the perils of unsafe/drunk driving, etc. There is also room to explore deeper and innovative partnerships with the government and other civil society groups. For instance, why not provide facilities for people to report accidents in highways far off from the main cities – all it takes is a working telephone booth. Or partner with hospitals on providing emergency care. 
Educating people is the right strategy choice, investing in one-off events is not. Much more can and should be done in terms of public campaigns, ads, social-media speak, and even massive billboards on the perils of unsafe/drunk driving, etc. There is room to explore deeper and innovative partnerships with the government and other civil society groups. It will also be worth their while to explore collaborations with other corporate entities to enhance scale and reach. Often, CSR degenerates into mere tokenism – a tree-planting drive on World Environment Day, lights off for an hour at corporate offices on Earth Day, or the annual ritual of volunteer work at an orphanage for a few hours. Road safety is often subjected to such one-off efforts that are all bluster and offer little on substance. Companies also need to ensure that the principle of 'safety first' is built into their actual product output and quality processes.
Companies also need to take a closer look at their safety standards, especially for vehicles. This is reflected in this statement by Soni: 'Every car manufacturer should prioritise safety of customers and standardise safety features across all models.' The last few years have been scandalous for some of the world's largest auto behemoths. Take the case of 2009's Toyota recall due to defective gas pedals that resulted in 12 million vehicles being recalled and a subsequent 1.32 billion fine for issuing misleading statements. Or the recent Takata airbags recall that touched the lives of the owners of 100 million cars worldwide – Honda being accused of ignoring the issue for years. Last year, GM recalled over 4 million cars due to a software bug that prevented air bags from deploying during a crash; in 2014, its faulty ignition switches were responsible for 124 deaths and 275 injuries. In India, which has comparatively lax standards and weak enforcement when it comes to safety, the problem can be conveniently sidestepped. Right now, recalls are voluntary and the auto industry is strictly against mandatory policies on recall or associated penalties, which, not surprisingly, is a norm in many countries including the developed ones. The reasons provided are ostensibly because investor confidence may dip and the incentive to under-report defects if penalties are applied (because why would you admit to your mistakes if there's a chance of justice being served?). Incidentally, this is quite the opposite of what has been proposed in the draft Road Transport and Safety Bill, 2015.
Instead of shirking from their basic responsibilities, companies would do well to walk the talk of their supposed 'safety first' ethos. If these are the accepted norms worldwide (and let's face it, they save lives too), there's no reason for India to be the exception. The voluntary numbers don't assuage fears either – between July 2012 and May 2016, 2.24 million vehicles were recalled in India citing safety concerns, with Honda, Volkswagen and Ford in the top three. All of this was voluntary, of course, so it's highly possible other car companies were unwilling to disclose their numbers. Another oft-seen issue is that while two-wheelers are a big reason for the steady increase in accidents, some of these companies are neglecting this problem. Right now, car companies are taking a lead in road safety measures.
Often, CSR degenerates into mere tokenism – a tree-planting drive on World Environment Day, lights off for an hour at corporate offices on Earth Day, or the annual ritual of volunteer work at an orphanage for a few hours. Road safety is often subjected to such one-off efforts that are all bluster and offer little on substance. Instead of such meaningless efforts, companies need to ensure that the principle of 'safety first' is built into their actual product output and quality processes, and that all initiatives to promote road safety are of a continuous nature that speak to their audience. It will also be worth their while to explore collaborations with other corporate entities to enhance scale and reach. Unsafe roads are everyone's problem. Companies would do well to sit back, take notice, and act accordingly.