Companies covered: Apollo Hospitals | Cipla | Dr Reddy's Laboratories | Fortis | ICICI Lombard | Max India | Piramal Healthcare | Sun Pharma | Wockhardt

H

ere, we take a look at the CSR strategies and activities embraced by some of the country's top healthcare companies and assess their dedication, or lack of it, to their chosen causes.While the term healthcare conjures up images of large hospitals and worker bee-like doctors performing complicated surgeries, it actually encompasses all goods and services that improve a person's health – through preventive, rehabilitative and palliative care. So, it includes medical equipments, hospitals, nursing homes, pharma and life sciences, and even home healthcare services, among others. In India, the healthcare industry is valued at $100 billion currently and is expected to reach $280 billion by 2020. With the gradual privatisation of many health services and an abysmal level of government spending on the same, expect this industry to grow at a breakneck speed.
Apollo Hospitals 
For Apollo, its CSR vision statement is in two words: Creating Wellness. Rural development, healthcare, education and promoting healthcare research are the main areas of intervention. Under rural development, the Total Health not-for-profit organisation was set up which works in Thavanampalle Mandal in Chittoor district, Andhra Pradesh. Apart from providing a whole range of healthcare to the community, the organisation also provides safe drinking water and sanitation facilities, has set up nutrition centres, and runs a primary school.
On the healthcare front, there are multiple programmes currently operational. Saving A Child's Heart Initiative (SACHi), established in 2002, is dedicated to paediatric cardiac care and child heart surgery for the underprivileged. Children are identified through free screening camps, with help given by the government and donors as well. Over 50,000 children have benefited to date. The Billion Hearts Beating Foundation is another one of Apollo's non-profit organisations that works on increasing awareness about heart disease and its prevention. The CURE Foundation helps bring cancer treatment (about 500 patients to date) to poor patients while also spreading awareness on this deadly disease. Society to Aid the Hearing Impaired (SAHI) helps hearing-impaired children from rural areas gain access to modern medical treatment including hearing aids and free ear surgeries. DISHA is a telemedicine initiative to provide long-distance healthcare to underserved and poor communities at affordable cost through mobile vans. Monthly health camps are also organised for expecting mothers.
In 2015–16, the requisite amount of Rs 86.44 million was spent on CSR; free health checkups and donation to the relief fund for the Tamil Nadu floods took the lion's share of this amount. Many of Apollo's programmes are open for individual donations as well.
Cipla 
Cipla's business philosophy is 'Caring for Life' and, accordingly, the Cipla Foundation was set up in 2010 to provide healthcare and education support to people in need. Other areas of intervention are skill advancement and disaster management. Although supporting old-age homes, orphans and disabled people, environment-friendly practices, and rural-development projects are mentioned in the CSR policy, there's no indication yet that much work has been done in these areas. However, Cipla does have a formal corporate responsibility (CR) policy that considers sustainable development and creating stakeholder value as key drivers towards achieving its CR mission.
On healthcare, support is provided to poor and marginalised communities through promotion of preventive healthcare, operating rehabilitation and medical camps, constructing sanitation blocks, running mobile vans, and working on maternal and child care by partnering with government agencies and other organisations. Special assistance is also given to children with developmental disabilities. The Cipla Palliative Care and Training Centre in Pune, established in 1997, provides free palliative care to terminally ill cancer patients free of charge.
On the education front, help is given to improve school infrastructure, e-learning programmes are supported, and sponsorships are granted to selected students. The company supports skill-building programmes, including providing sponsorships in some cases. In FY 2015–16, out of the required amount of Rs 35.8 crore, Rs 20.48 was spent. The bulk of it went to promoting healthcare projects. The company has committed to increasing the CSR expenditure over the next few years.
Dr Reddy's Laboratories 
Dr Reddy's, one of the biggest Indian pharmaceutical names, is also the first such Indian company to publish its sustainability report as per Global Reporting Initiative (GRI) guidelines (adhering to the Core option, which is less detailed than the Comprehensive option), reinforcing its commitment towards environment-friendly policies. In terms of its CSR policy, the stated strategy is to implement projects through a structured 'social engagement plan' in the fields of skills enhancement, education, healthcare and promoting innovation.
The livelihood initiatives are implemented through Dr Reddy's Foundation, while for other projects Dr Reddy's partners with a variety of organisations including KC Mahindra Trust, Naandi Foundation, and Teach to Lead. The flagship programme under the former category is the Livelihood Advancement Business School (LABS), started in 2000, through which 26,000 youths are trained every year (LABS-PwD is for disabled people and runs in 24 centres). About 3.5 lakh youths have benefited with an average placement rate of 70 per cent every year. However, the LABS programme is being phased out for a new one – GROW, which focuses on new skills and jobs more suited to today's market demands. The LABS-F programme is the rural livelihood initiative that helps farmers on technology and modern methods in farming. In FY 2016, 18,000 farmers were supported. Sessions for providing skills training to rural youth are also conducted periodically.
On education, Pudami neighbourhood schools and English primaries have been established for children from poor families. Twenty-four such schools are helping over 9,668 students in Hyderabad and Ranga Reddy district. Kallam Anji Reddy Vocational Junior College (KAR-VJR) trains 457 tenth-class pass-out students annually in two-year vocational courses. The other major education initiative is the School Improvement Program (SIP) that is operational in 59 government schools helping 25,250 students across six districts in Andhra Pradesh and Telangana. Other projects are mobile science vans and support for the Teach for India fellowship programme. Healthcare projects include the Community Health Intervention Program (CHIP) for better healthcare facilities in 145 villages across Andhra Pradesh; RO water plants benefiting 70,000 families; and free psychiatric camps. The total spending on CSR for FY 2016 was Rs 412 million out of the prescribed Rs 418 million.
In terms of sustainability performance, Rs 213 million was invested in 2015–16 to remove harmful elements from waste disposal. In the same year, there was a 6.3 and 6.8 per cent reduction, respectively, in energy and freshwater consumption, while renewable-energy usage increased to 13.6 per cent. The company has identified nine key 'pillars' to drive its sustainability strategy: people, safety, quality, environment, productivity, community, availability (focusing on supply chain), continuous improvement, and engineering excellence. On environment parameters, targets have been set for key parameters, such as 40 per cent reduction in specific energy consumption by 2020 (base year being FY '10) and 40 per cent reduction in CO2 emissions by the same year. On sustainability reporting at least, Dr Reddy's is leading the way for other healthcare companies in the country.
Fortis 
Another big name in hospitals is Fortis, which also happens to be one of the few healthcare companies to clearly state 'sustainable development' as one of its key business principles. The focal point of its CSR policy is preventive and remedial healthcare. Within this, 'mother and child' initiatives take precedence including their healthcare, education, environment and capacity building. Fortis Foundation, established in 2005, is the implementing agency, with the three main programmes being Sewa, Aanchal and Savera.
The Sewa programme runs emergency medical services in areas struck by disaster, while the Chhaya initiative is for charitable dispensaries and health camps for poor people in multiple locations. For example, the free dispensary at Golden Temple in Amritsar helped over 41,000 patients in the previous FY alone. Aanchal is the mother-centric programme that works with mothers to provide them with key information on nutrition and other aspects related to care giving, with the overarching aim of improving community and societal health. A programme called Umeed focuses on helping children with congenital heart defect and cleft lip and cleft palate. Nearly 4,000 children have received treatment for heart defects since 2006. Savera, on the other hand, is primarily about preventive and remedial healthcare education through publications, audiovisual content, children's books, pictures and posters, etc.
Target intervention areas have been identified with focus on creating awareness about tobacco control and basic life support and first aid. Apart from these, the Foundation occasionally treats people with rare diseases and special needs, and also gives support to acid-attack survivors. One would like to see this number go up in coming years as it's currently in single digits. The Global Dignity Initiative, which is is an autonomous non-profit, and non-partisan, is a project that targets young people to educate them on the importance and relation of health and dignity.
Until 2016, over 22 lakh people benefited from these multiple initiatives. In FY 2016, Rs 53.79 lakh was spent (including the amount left over from the previous year) on CSR activities, with the highest spend on Chhaya. Balance remaining amount to be spent was Rs 35.9 lakh. For the holding company Fortis (including all subsidiaries), the total amount spent was Rs 304.63 lakh, with Rs 221.22 lakh the balance amount left for next year. By 2020, the company's plan is to strengthen and scale up its target intervention areas – training academy, tobacco control and knowledge repository of healthcare information.
Fortis also has a sustainability policy with the usual statements on reducing emissions and waste, and usage of more green resources. The company has environmental and social assessment policies for screening new projects and while there's not much information on what these sustainability measures are, according to this IFC report, some steps have been taken on managing resources more efficiently including waste-water management. Fortis would do well to back their claims up with a GRI-adhering sustainability report.
ICICI Lombard
The joint venture between ICICI Bank Limited and Fairfax Financial Holdings Limited is one of the most recognised names in the insurance space and has a thriving health insurance portfolio. The CSR focus areas are: healthcare including sanitation and preventive healthcare, road-safety awareness, education, and sustainable livelihood. Many of the company's CSR activities are implemented through the ICICI Foundation. The amount spent on CSR for FY 2016 was Rs 97.1 million (slightly more than 2 per cent of average net profit for the preceding 3 financial years). The major expenditure was on education and healthcare projects of ICICI Foundation.
Road-safety awareness drives constitute a major initiative, conducted in Mumbai, Delhi and Pune, and primarily targeting children and their parents, reaching out to an audience of over 15,000 since 2015. Eye check-up camps for underprivileged students are organised across several cities, with many free spectacles being provided to those with poor vision. This is part of the company's in-house employee volunteering programme Caring Hands, which was launched in 2011 so as to provide preventive healthcare services to underprivileged children.
Max India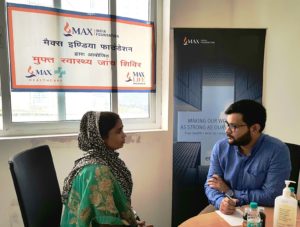 Max India Foundation (MIF) is the CSR arm of the Max Group, including all three Max Group holding companies (Max India is the holding company of Max Healthcare, Max Bupa Health Insurance, and Antara Senior Living). The Foundation's main focus is to provide healthcare – from spreading awareness to actual treatment – to poor and underprivileged sections of the society. As per the Foundation's claims, over 2.7 million people in 730 locations have been positively impacted, in partnership with more than 400 NGOs. The modus operandi is health and immunisation camps that are also capable of providing high-end surgeries. The Foundation has also adopted two village clusters in Uttarakhand – Dhakrani and Chandrothi, for improving their health, sanitation and waste management. As an example of its work in these villages, nine multi-speciality camps that helped 2,651 patients and 12 immunisation camps were organised in FY 2015–16. MIF also claims to be the largest philanthropic arm directly benefiting the highest number of underprivileged children.
MIF's immunisation programme has been running since 2008. Annual artificial limb and polio calliper camps are organised in different locations in collaboration with Bhagwan Mahaveer Viklang Sahayata Samiti, the NGO that provides Jaipur foot for the disabled. Since 2011, the Foundation has also been providing 14 free artificial limbs every month in partnership with Kiwanis Rehabilitation Centre; a total of 800 disabled people received support in FY 2016. Eight health centres catering to underprivileged communities in Delhi, Uttarakhand and Punjab have been set up in partnership with several NGOs.  It also organises skill-development training for young people from poor backgrounds as well as training for traditional birth attendants. Health-awareness campaigns and anti-tobacco drives are organised periodically. As FY 2016 was the first year of operation for the Max India company, the 2013 CSR Act provisions weren't applicable to it and, hence, no specific information on expenditure or future plans were disclosed.
Specifically for Max Healthcare (which includes Max hospitals), the CSR policy document spells out health and hygiene, education, nutrition and livelihood (vocational training, SHGs) as its CSR intervention areas. However, for FY 2016, the company did not spend on CSR as it had carry-forward losses.
Piramal Healthcare 
The Piramal group, which is diversified across multiple sectors, is most famous for its healthcare division, in particular Piramal Pharma Solutions. Like most of the other healthcare giants, this company, too, conducts its CSR activities through its own foundation. The Piramal Foundation, which is the strategic philanthropic arm of the Piramal group, works in three domains: healthcare, education (Piramal Foundation of Education Leadership), and water (Piramal Sarvajal). The focus for this article will be on its healthcare initiatives.
Piramal Swasthya's (healthcare) mandate is to provide affordable healthcare services to the poor and marginalised communities in the country. It is currently operational in 11 states and has impacted more than 76 million people. It primarily works on maternal and child health, and non-communicable diseases. The first is addressed through an information helpline, which is a health contact centre that acts as an all-in-one medical advisor, counsellor and grievance addresser. Along with this, mobile health services and telemedicine facilitate the delivery of healthcare to poor and rural households in remote areas. Mobile health services essentially consist of vans with the required devices, technology and health workers. Companies like Essel Mining also use this service. In 2016, Piramal was awarded a 3-year project to operate 275 mobile medical units across Andhra Pradesh covering 13,900 villages every month. Through cutting-edge innovations like Dox-in-Box, Piramal's telemedicine projects help people in remote areas access trained doctors. There are 44 tele-health centres across the country, many in partnership with state governments. For non-communicable diseases (such as hypertension, diabetes and asthma), Piramal Swasthya provides relevant information, screenings and follow-ups to patients.
Another unique project is the eSwasthya which uses a micro-franchise model to deliver medical services in rural areas. Through Piramal Swasthya Sahayikas (village-based women health entrepreneurs) and mobile technology, eSwasthya call centres help patients get provisional diagnosis based on existing history and further reviews by doctors. As of March 2017, more than 8.34 crore people have benefited through the Piramal Swasthya programme. Out of this, nearly 9.8 lakh are mother and child beneficiaries who have been counselled via Mother and Child Tracking System (MCTS) call centre; 3.8 crore people have had health facilities delivered at their doorstep; and 1.7 lakh beneficiaries have been provided specialist consultation through telemedicine services.
Although Piramal group's net profits in 2015–16 was negative, it spent a total of Rs 25.86 crore on CSR the same year (across all divisions of the Foundation). Over the next 3 years, The Foundation aims to reduce maternal mortality rate by 30 per cent and infant mortality rate by 20 per cent.
Sun Pharma
Sun Pharma Laboratories (and erstwhile Ranbaxy), one of India's well-known pharmaceutical companies, has chosen healthcare, environment, education and livelihood, and water as intervention areas for its CSR. Each of these has a number of proposed programmes and expected outcomes clearly listed in the CSR policy. Under healthcare, the Sun Pharma Community Healthcare Society operates mobile vans in seven states to increase access to basic health-related services. Improving maternal and neonatal care as well as raising awareness on their importance is another critical area of the Society's work. Education (upgradation of rural school infrastructure benefiting 3,859 students in FY 2016) and sanitation (construction of toilets and awareness sessions) programmes have also been taken up in the states of Gujarat, Maharashtra and Tamil Nadu.
The Sun Pharma–Daiichi Sankyo Joint Initiative was a five-year project (2012–17) undertaken in Dewas, Madhya Pradesh, to work towards achieving the UN Millennium Development Goals focusing on reducing child mortality, improving maternal health, and combating HIV/AIDS and malaria. Although there was an uptick in key health indicators, exact data isn't available. Sun Pharma Science Foundation is the other main organisation, promoting research and scientific endeavours in the fields of medical and pharmaceutical sciences. In 2016, it was announced that the newly established Foundation for Disease Elimination and Control of India (FDEC-INDIA) had signed a tripartite agreement with the Indian Council of Medical Research and the government of Madhya Pradesh to launch the Malaria Free India demonstration project in 1,233 villages of Mandla district in Madhya Pradesh.
Sun Pharma claims to be fully dedicated towards environment, health and safety concerns but data is not forthcoming. Regarding the spend, while the average net profits of the company for the preceding three financial years were negative, Rs 116.54 million was spent on CSR in FY 2016.
Wockhardt 
This chain of hospitals, easily one of the largest in the country, conducts its CSR through the Wockhardt Foundation. The stated CSR policy is to focus on 'healthcare and promote social causes across all locations where the company operates.' Wockhardt Foundation runs 19 programmes with the stated mission being 'work towards and fight for the upliftment of the poor, weak and needy'.  While the company's average net profit over the past 3 financial years was negative as per its FY 2016 annual report, it did contribute Rs 8 crore to the Wockhardt Foundation. A brief snapshot of the many programmes taken up is given below.
Mobile 1000 is exactly as it sounds – mobile health vans that operate in different locations. Curr
ently the number of vans is 110, with about 15 lakh people provided with free medicines. The Wockhardt 'health centres' initiative aims to improve existing primary healthcare centres in the country and bring them up to the standards of the National Accreditation Board for Hospitals & Healthcare (NABH). Little Hearts helps babies with complex heart diseases, with financial assistance given to children from poor families (more than 6,000 congenital heart surgeries done over the last 15 years), while Organ Daan is into organ-donation advocacy.
In solidarity with Swachh Bharat Abhiyan, a few projects were launched in 2013: Pronto toilet works to construct individual sanitary latrines in schools (993 commissioned till now); Pronto bio-toilet is a complete solid-waste management solution with over 287 commissioned to date; and the Swachh Bharat Recycle machine is a clever solution to recycle plastic bottles. Shudhu is a water-purification tablet that cleans water of bacteria, germs and viruses; about 10 lakh such tablets have been distributed.
On education, an e-learning programme, 22 recreational centres for poor and underprivileged children aged 6 to 12 years (Khel Khel Mein), Wockhardt Skills Development Institute focusing on healthcare-related skills (131 trained in 2015), and ZAB, which is a uniquely designed school bag that can work as a school desk, are some of the projects taken up by the Foundation. One of its noteworthy projects is Adarsh Gram Yojana, being executed in collaboration with the Government's Sansad Adarsh Gram Yojana scheme. Under this, the Foundation will be adopting villages and working on seven rural development aspects: literacy, primary healthcare, sanitation, employment, water security and purity, electrification and cleanliness. In 2015–16, the programme was expanded to 20 villages in Aurangabad district. Another commendable initiative is the Wockhardt Anganwadis project that works to improve the quality of, as well as provide required training and resources to, existing government anganwadi centres (AWCs).
Not all of the Foundation's works seem like a natural fit with the industry that Wockhardt is in – projects like Humanity class that teaches 'human values' to young students or even ZAB come across as slightly incongruous with healthcare. However, good work should always be appreciated, even if many of these programmes rely on donations and individual goodwill to survive. Till 2016, as per the Foundation's claim, 976 lakh people had been positively impacted by its work since its inception. Future plans include expanding in areas like hospital management, especially public sector hospitals which are not well managed but are the lifeline for most poor people. This is a welcome step and other companies need to take note.
CB view
Self-evident from the above account is that while healthcare is the key CSR focal point for all big healthcare companies, the type of CSR done also remains the same for all. Mobile vans, medical camps, awareness sessions, and sanitation are the usual suspects. Although these are steps in the right direction for a fledgling CSR strategy, companies that have invested in 'giving back' to the society for a longer period than the 2013 Act CSR can take a second, closer look at their activities. More of preventive healthcare (covered in detail in this CB article), less of reactionary measures would be a start. Assistance in critical surgeries, most of which are prohibitively expensive for even middle-class families, is also a service that can be provided more generously. Another potential area to explore is sponsoring young students in the fields of medicine and research. With the huge dearth of qualified doctors and nurses in India (which is only going to increase in the coming years), this problem is crying out for help. Staying invested in education for children is commendable but higher education is an equally important issue, at least in healthcare. There is much value-add that companies can bring to some of the most pressing health-related issues plaguing the country. Piramal Foundation'e CEO Paresh Parasnis puts it succinctly: 'Corporate India needs to invest in creating out-of-the-box solutions that can complement government's efforts in addressing deep-rooted social issues. They are built to deliver scale and this skill set needs to be harnessed in working with governments to offer systemic solutions across their chosen areas of intervention.' While information on CSR activities is plentiful thanks to the foundations created by many of the large healthcare companies, detailed CSR reports are not a trend that they have caught on to. Less welcome are questions on their CSR work, sometimes explained away with unexplained excuses such as HDFC Ergo's 'inability to participate'. Even more elusive is data on sustainability; every company purports to take 'responsible business' seriously but with little information, it is difficult to take such claims seriously. Sustainability reports are even harder to come by. Except Dr Reddy's, most do not issue one even when such reports have become commonplace for the biggest companies in the world. Others like Opto Circuits and Apollo Munich haven't even bothered to disclose basic CSR information to the public. Then there are firms like Religare Insurance who do not conduct any CSR of their own but rely on the holding companies' (in this case, Religare Group) goodwill to pass off as their own. Healthcare as an industry is pretty ripe with profits and, compared to other sectors, relatively more active in the CSR space. With the wealth of experience gathered over the past many years, it is time they diversify and invest in long-term, impactful CSR which, again, brings us back to preventive healthcare measures. As Dr Huzaifa Khorakiwala, trustee and CEO of Wockhardt Foundation, states, 'What you give in charities, comes back to you multiplied many times over. You give not because of pity but to help the needy.' Health is a right, not an obligation, and these companies would do well to remember that.