Sports in India is a bit like politics. Everyone has an opinion on it but that's about it. We all know that one colleague who can rattle off every possible statistic on Tendulkar, the friend who can convincingly argue that Messi's right foot is better than his left, the stranger who chides you for not remembering the last time the Indian hockey team won a medal at the Olympics. Mostly, that's that. However much we may crave for sporting heroes, the fact remains that this is still a country where pursuing sports as a career is anything but easy. And if you are born into poverty, the odds that are stacked against you are quite insurmountable.
STAIRS hopes to change that. An NGO that focusses on sports as a way to help underprivileged youth and whose mission reads 'Empower the youth to climb the ladder of success by enrolling them into sports and education' may not seem the most conventional, but sports can—and does—unite people and, with hard work, skill, and a bit of luck, change lives. STAIRS aims to improve the lives of youngsters by giving them the means to indulge in sports and, where possible, facilitating the development of the requisite skills as well as providing avenues to make it a career and a lived passion. The underlying philosophy seems to be twofold: in a country where opportunities for education and employment are scarce, sports keeps the youth out of trouble and/or crimes and misdemeanours, and is a platform through which character, core values, and lives are positively shaped. Their initiatives hope to bring about positive changes to the individual, the community, and the larger society.
The story started in 2000. STAIRS' founder and secretary general Siddhartha Upadhyay was just 20 years old then and what he loved doing most was playing. He would engage with children at the grassroots, provide them with basic sporting tools, and play with them for fun. Over time, what had started out as a happy pastime turned out to be a catalyst for 'change'. Siddhartha's idea created an opportunity for children to exercise their right to play. A small band of likeminded, fun-loving, ideating, and enterprising friends joined hands with him and thus was born what is known today as STAIRS.
STAIRS under-17 football team. The team comprises players chosen from over 4,000 children who participated in 60 spotting camps across Delhi.
The organisation provides talented kids, both male and female, with sports equipment, infrastructure, training, and scholarships to nurture their sporting skills, overall reaching out to more than 200,000 children on a daily basis. Its programmes span 400 centres across six states. At the most basic level, STAIRS creates and maintains the necessary logistics for youngsters in poor localities to simply play and enjoy themselves. To identify talent, local leaders first scout for participants, after which camps and counselling are held. The show then moves to coaching camps that may feature national or international sportspersons. As an example, Uflex-STAIRS Cricket Scholarship is provided to 10 students every year. They have also organised camps and tournaments for disabled youngsters. In view of the limited focus on sports by successive Indian governments (even when it is home to the largest population of young people anywhere in the world), organisations like STAIRS are imperative if the country is to even have a semblance of a healthy sporting culture.
Sports and CSR. Offside or game, set, match?
Sports as CSR may at first seem a bit incongruous but when famous personalities like Nelson Mandela and Kofi Annan declare that sports can be a great facilitator for peace and development, you have to sit back and take notice. At a time when large sports organisations and famous athletes are using it to further certain worthy causes – think FIFA's anti-racism programme, Green Sports Alliance in the USA, FC Barcelona partnering with UNICEF, or Martina Navratilova's advocation of LGBTQ rights – it was only a matter of time before NGOs and civil society got into the act. If the personal is political, then a force like sports which brings people together can hardly remain apolitical. NGOs delving into this realm are not unusual. Apart from STAIRS and Yuwa in India, plenty of NGOs in other countries are taking the route of sports to bolster a better lifestyle and development for disadvantaged youth, such as Street Charity in the United Kingdom, Peace Players International in the United States, Moving the Goalposts in Kenya, and Sport the Bridge in Ethiopia.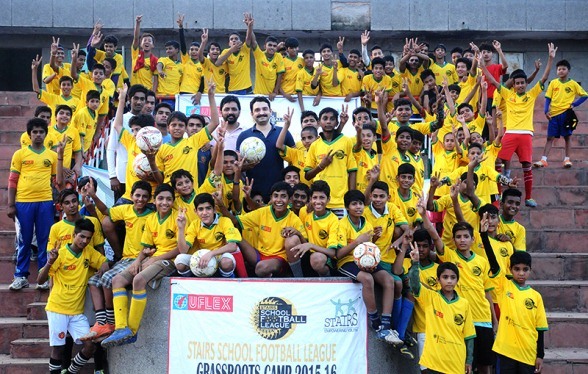 Siddhartha Upadhyay (centre) with STAIRS children at one of the SSFL grassroots camps.
The benefits of engaging in and promoting sports as CSR have been articulated in detail in popular literature.
Sports by its very nature is inclusive and attracts participation that often cuts through race, religion, and regional differences. Bringing communities together is something that it does brilliantly well—few other activities can boast of this. Where traditional vehicles fail, sports can reach out to a broad spectrum of people.
Sports is a natural ally and friend of young people and holds much appeal among this demographic. A well-designed programme that targets this group can, with the right strategy and intentions, teach values such as participation, teamwork, perseverance, tolerance, and decision making. A paper by Aaron CT Smith and Hans M Westerbeek, however, cautions that such programmes should feature high degrees of autonomy for the participants wherein they are free to express, engage, and enforce themselves. Organisational control rarely brings about the desired results.
Sports promotes a healthy lifestyle which, in a world beset with either obesity or extreme malnutrition, is extremely important. Especially among the less privileged sections, it directs attention to the problem of malnutrition (39 per cent of Indian children suffer from it). NGOs like STAIRS as part of their initiatives can help facilitate better nutrition as well as educate the youngsters on this.
Sports has the capacity to break down and transcend cultural barriers and promote the messages of harmony and openness. Think of the multiracial French football team or clubs like Chelsea FC which has players from countries as diverse as Serbia, Brazil, Spain, Nigeria, and Egypt. At a time when there are strong forces that aim to divide people by invoking the worst of our instincts, sports can truly be the great unifier.
Research has shown that sports helps improve the confidence and self-esteem of young people, especially those from disadvantaged communities. It helps them build friendships and alliances, keeps them out of potential trouble and inside schools, and makes them mentally and physically stronger.
Aside from this, there are numerous examples of how sports has been used as a positive change agent, including for combating teenage pregnancy and AIDS prevention in countries like Kenya and Ghana, and preventing crime and drug abuse among the youth in the United States and Australia. In India, the most notable effort at the government level is the Rajiv Gandhi Khel Abhiyan. Launched in 2008, it provides funds for the development and maintenance of sports grounds in villages and block panchayats over a period of 10 years. It also organises rural sports competitions at block, district, state, and national levels through the state governments/UTs, with technical support from Sports Authority of India (SAI).
Glimpses of various sports platforms created by STAIRS.
How does STAIRS work?
The approach is quite simple. Before any new venture, they first aim to understand the demographics of a particular region and identify the right area for their intervention. This is followed by creating and/or upgrading the sporting infrastructure for the local youth to make full use of. Team STAIRS believe that every child has the right to play and towards this end, they try to ensure that the required support structures are in place. Camps are organised to identify and nurture talents, who are handpicked by experts. The selected ones are then trained regularly at STAIRS' partner academies. They then work towards finding suitable opportunities for these youngsters on a professional level. One thing that they are very clear on is that such cases may not be a frequent occurrence and, hence, the emphasis is also on providing career counselling and the right guidance to the youngsters.
One of their flagship programmes is Khelo, which is currently run in Delhi, Uttar Pradesh, Jharkhand, Haryana, Orissa, and Himachal Pradesh. The main objective is to create spaces and the right infrastructure so that children from the less privileged sections of society can play their chosen sports.
Their other flagship programme is STAIRS for Growth, which focusses specifically on certain sports, holds grassroots-level tournaments, provides scholarships to deserving players, and enables them to be considered for – and selected into – state and national teams.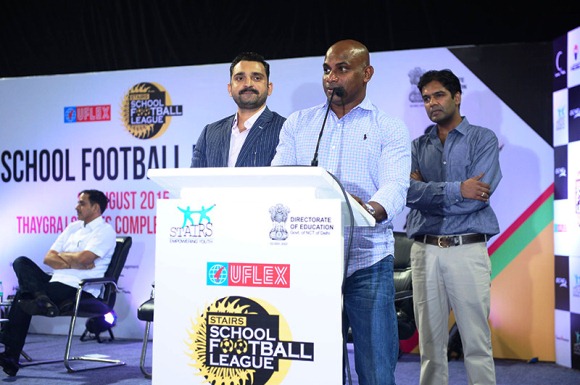 Legendary cricketer Sanath Jayasuriya at the inaugural ceremony of SSFL 2015.
A better-known initiative is STAIRS School Football League (SSFL), which targets a more structured approach to enable talent growth whilst spreading the joy that is football. Started in 2014, this league is open to all school children and had over 2,000 participants in its inaugural year from Delhi NCR. In 2015, 1,000 schools registered and 288 were ultimately selected. Perhaps the most heartening feature was that 32 all-girls teams in two age groups of Under 14 and Under 17 also took part. In a country where it's tougher for girls to participate in and express themselves through sports, this was quite significant.
SSFL is one of the largest grassroots football projects in India and should hopefully be the stepping stone for future stars. Football being the biggest sport on earth, relatively easy to play – a small, empty patch of land and something resembling a big, round ball, and you are good to go – and boasting of global superstars like Messi, Ronaldo, Aguero and Neymar, it is perfect for an exciting, feverish competition to mobilise the youth. STAIRS' mantra is to nurture and maintain local community involvement at all times. They groom leaders from the community itself to ensure that they have suitable opportunities for growth and can meaningfully interact with volunteers who come from other backgrounds.
Under-14 team of underprivilidged girls chosen at grassroots camps beat all school teams to make it to finals of SSFL Delhi 2015.
Unlike most NGOs, STAIRS does not rely on external donor funding. Instead, the founder Siddhartha Upadhyay funnels in the money from his other businesses and also derives volunteers from the same. They do, however, tie up with other groups for many of their programmes. For example, Uflex is its partner for SSFL and has committed its patronage for the next five years; it also supports Khelo Dilli. The German High Commission had supported SSFL in 2014, while Max India Foundation came forward as health partners for SSFL 2015.
Sports CSR in India
With sports enabling active and fun participation and bringing people together, much of the corporate world has started leveraging it frequently to meet its social responsibilities. Companies have realised that it is often an effective and controversy-free way to deliver on their goals to 'give back to society'; of course, it offers great visibility as well. What needs to be kept in consideration, though, is that this should not be confused or mixed up with cause-related marketing, even though the latter does tend to creep up in any not-for-profit activity. A fair number of companies in India have started to explore the mutually beneficial realtionship with sports as part of their larger CSR mandate, including TATA Steel, Nike India, GVK, and JSW, and PSUs like NTPC and ONGC.
Government's clarification
Interestingly, last year the government clarified that though spends towards promotion of sports like rural and national sports would be considered as CSR activity, expenditures on one-off sports events would not count. This is quite noteworthy since one constant criticism of companies engaging in sports CSR is that they usually sponsor the odd sporting event here and there to meet their CSR spending quota (these are often seen as a brand-building exercise), or take up projects of very short duration which seemingly have high returns on investment but do not require much investment of time or serious commitment. At times, companies fund athletes right before a tournament of national or international stature. It is obvious that none of these approaches remotely address the core tenets of effective and long-term, value-creating CSR. Here, NGOs like STAIRS offer companies a way to invest in community development and advancement on an ongoing basis. They also enable these companies to reach out to a large and diverse group of engaged participants (often comprising of young people), promote healthy living, social cohesion, and sustainability, and in certain cases become the early champion of future sporting greats.
What needs to be kept in mind is that in CSR while sports can be an effective facilitator and a tool for worthy causes, often the end goal is not to promote sports itself. STAIRS, on the other hand, combines both objectives recognising that sports can be the means as well as the end. Here, one can refer to the study by Smith and Westerbeek in 2007 which lists out 10 areas where sports can bring about positive social change and is often used to assess sports-based CSR and NGO activities.
Unveiling the Champions Trophy. Over 288 schools and 4 STAIRS teams are competing for the running trophy.
CauseBecause view
Although there may be limitations on what sports can achieve on its own, this can be easily navigated by linking sports-based programmes with health, education, and other such initiatives. Organisations with common goals, themes, and values can come together to explore synergies and maximise the impact of their complementary projects. Ultimately, the overarching objectives are to improve the community, benefit its people on a sustainable basis, and increase social capital. Here sports can be the ideal channel to bring people from diverse backgrounds together.
One aspect that sports-based NGOs like STAIRS should be constantly aware of is the need to intersect gender and development with their agenda. While sports is a great medium, for it to truly tansform people and communities it cannot work in isolation, and STAIRS must continue to address some of the inherent discrimination that is weaved into our society and, by extension, sports, a glaring instance being the marginalisation of women, disabled people, lower castes, and gay and transgender people. Partnering with other NGOs and civil society groups will also help broaden the scope and impact of their programmes.
Another issue that may arise with many of these talented children is the spectre of economic compulsions that may force them to abandon a potentially bright future and return to a life of limited education and job prospects in order to support their families. A comprehensive, long-term strategy is required to ensure that these youngsters are given substantial, continuous support – without the right opportunities and guidance, even born champions can be consigned to obscurity. This needs to be accompanied by an ongoing effort to educate parents and community members on the importance of supporting these kids through and through. Interventions that seek to improve their economic sustenance and health, and make them participatory in the process will prove to be tremendous assets to achieve this. In short, while STAIRS' journey has given much to cheer about, there is plenty more to be done.
Reach the writer at: sanjana@causebecause.com