Official ceremony in Sweden
As host for 2022, Sweden held the official World Environment Day ceremony at the Tekniska Museet in Stockholm. Sweden's Minister for Climate and the Environment, Annika Strandhäll, and UNEP Executive Director Inger Andersen were in attendance.
Watch here.

In India, PM launches LiFE
India's Prime Minister Narendra Modi launched the 'Lifestyle for the Environment (LiFE) Movement' on 5th June to mark World Environment Day 2022. The idea of LiFE promotes an environment-conscious lifestyle that focuses on 'mindful and deliberate utilisation' instead of 'mindless and destructive consumption'.
Watch here.
CauseBecause Exclusive
Team CauseBecause spent WED morning with about 50 children who made nests with organic material under the guidance of Rakesh Khatri, widely regarded as the Nest Man of India. 
The event was organised by Hero MotoCorp at Aravali Biodiversity Park – the company has undertaken the ecological restoration, conservation and protection of this Park for 10 years under its CSR mandate. 
Subhash Yadav (IFS), additional CEO, Urban Environment Division, Gurugram Metropolitan Development Authority (GMDA), and Bharatendu Kabi, head – corporate communications and CSR, Hero MotoCorp, were in attendance.
Watch here.
Celebrities' bit 
Bhumi Pednekar

The actor did a sapling-planting drive in Nainital, Uttarakhand, with the children of SOS Children's Villages of India. She, along with the children, planted saplings in pots that were painted by the children – these will be placed in their school as a daily reminder and a sweet memory.
While interacting with the children, Bhumi said: 'Climate change is real and happening right now. Every small step that we take has a consequence, and living a sustainable way of life should be inculcated from childhood. Be it ditching single-use plastic, waste segregation or water conversation – taking these small steps can go a really long way. We all have the power to make a change and every action of yours and mine will ultimately protect our planet.' 
Urging the children to tend to the plants, Bhumi said: 'This planet is our only home. If we do not keep our planet safe, we will not be safe.'
It may be noted that the actor has started a pan-India advocacy campaign, Climate Warrior, to raise awareness on environmental conservation and climate change.
Dia Mirza
Actor Dia Mirza, who is UNEP Goodwill Ambassador in India, publicly shared the seven changes she has made to her life to be more sustainable. Mirza said her actions include refusing all single-use plastic, taking short baths, planting trees in the name of people instead of giving expensive gifts, eating a mainly plant-based diet, moving to energy-efficient appliances, and segregating waste.
Jack Hody Johnson
As Goodwill Ambassador for United Nations Environment Programme (UNEP), American singer-songwriter and filmmaker Jack Hody Johnson celebrated WED at the Kokua Learning Farm, where Kōkua Hawai'i Foundation, co-founded by Jack, has restored over eight acres of agricultural land to strengthen the local food system. This was done with the help of 1,500 volunteers.
Corporations' bit (in alphabetical order)
Corona India
Global beer brand Corona announced the launch, in India, of a new 100% biodegradable and compostable six-pack made from 100% barley straw. The company has stated in a press release that the new circular form of packaging aligns with this year's World Environment Day theme of 'Only One Earth', focusing on 'Living Sustainably in Harmony with Nature'.
Ashwin Kak, Head – Procurement & Sustainability, India & South East Asia, AB InBev, says that this is 'a vital step towards achieving our larger global goal of ensuring that 100% of our product packaging will be returnable or made from a majority of recycled content by 2025.' The new Corona six-pack eliminates the need for using virgin wood from trees and other resources. 
Corona works with barley farmers in India to buy leftover straw that is often the cause of crop burning, a critical issue in North India. By commercialising barley straw, farmers receive an income for crop waste that otherwise has limited marketable benefits. Further, converting barley straw to packaging uses 1/3rd of water as compared to traditional virgin wood-pulping processes. By helping reduce crop burning, this form of packaging apparently prevents approximately 1,400 kg CO2 emissions/ton of packaging produced.
Greenlam Industries Ltd
The surfacing solutions brand carried out planting drives in and around their manufacturing facilities in Behror (Rajasthan), Nalagarh (Himachal Pradesh), and Naidupeta (Andhra Pradesh). The company also partnered with The Indian Institute of Architects (IIA) – Ranchi Chapter to extend the planting drive further and encourage more people to support the cause.
HappyLocate
They claim to be India's first tech-based one-stop relocation platform and this World Environment Day, has pledged to become a 100% eco-friendly platform for relocation services by 2025. To move towards this goal, the company has also instructed all its partners to use eco-friendly packaging materials for end-to-end packaging. HappyLocate currently uses 100% eco-friendly packaging materials for 70% of its intra-city transportation service. The company has also started using multipurpose crates, foam sheets, and foam blankets instead of paper boxes. 
Sainadh Duvvuru, CBO & co-founder, HappyLocate, explains some more: 'We plan to have zero single-use plastic by 2025 in our packaging material. With the introduction of reusable packing materials, we look forward to saving 1 lakh tonnes of paper, and 800 tonnes of single-use plastic, to make the growth more responsible and commercially more advantageous.'
So far, by opting for reusable packaging materials, HappyLocate customers can save up to 40% on the overall relocation costs, as per the company's claims.
Jindal Stainless
A plastic waste collection drive across its corporate offices hoped to sensitise employees to the detrimental impact of plastic on earth, thereby also emphasising the company's focus on green and sustainable manufacturing. Employees were encouraged to turn in their plastic waste in exchange for eco-friendly day-to-day products made of stainless steel.
Managing Director Abhyuday Jindal made this statement in a press release: 'Efforts like this plastic waste-collection drive are a reminder of our responsibility toward the environment. I congratulate my people for turning in a substantial volume of plastic today and making the switch to stainless. We are dedicatedly making efforts to reduce our carbon footprint, switch to renewable energy, and further advance our waste-management processes.'
The company also ran the #SwitchToStainless online campaign on its social media handles, engaging with the millennial and younger audience, while educating them about the problems pertaining to plastic waste.
MakeMyTrip

Starting 5th June, flyers who book through MakeMyTrip will find the option to neutralise carbon emissions via a link on their e-ticket. The online travel company has partnered with Climes, an Indian climate-tech startup, to enable this. Through this collaboration, flyers of MakeMyTrip will be able to neutralise the carbon footprint of their air travel, entirely or partially. Commitments made by MakeMyTrip users will be distributed by Climes to carbon-removal projects that focus on increasing biodiversity through agroforestry and restoring degraded agricultural lands, across the country. Flyers will additionally have the option of choosing the project they wish to support.
Vipul Prakash, COO, MakeMyTrip, says: 'Over the past few years, there is an increased awareness and sensitivity amongst travellers towards sustainable travel. With Climes, we are looking forward to empowering travellers with options that allow them to make sustainable choices and doing their bit for the environment even when travelling. Through this and more initiatives that focus on travelling responsibly, we hope to bring forth a behavioural change amongst travellers by helping them think sustainable-first when booking travel in the future.'
Only Earth
The plant-based milk brand joined hands with Beach Please, a community working for environmental conservation, to clean up the banks of the Mithi river. Their goal is to clean a substantial part of the river bank and also educate people about the importance of keeping the river pollution-free.
The 17.8-km-long Mithi river originates at Vihar Lake in Borivali and flows into the Arabian Sea from Mahim creek. The river works as a natural storm-drainage system that, if functional, would prevent flooding in the city. Unfortunately, the riverbed has become an open sewer where wastewater and industrial waste from cotton textile mills and illegal activities such as washing boats and oil drums is dumped.
Only Earth was launched in April 2021 with the objective of providing a sustainable and cruelty-free alternative to dairy.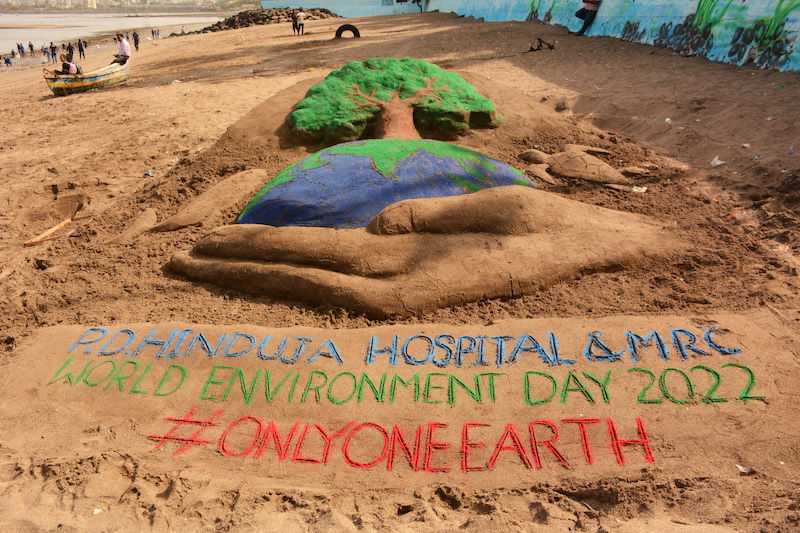 PD Hinduja Hospital & Medical Research Centre
The hospital partnered with a sand artist to create sand art as a way to remind citizens of the urgent need to protect the environment. In addition to this, children of the hospital staff painted the wall opposite the hospital with messages and their vision of a sustained environment and safer planet. The hospital also ran an internal campaign to encourage their staff to reduce use of paper by celebrating this World Environment Day as No Paper Printing Day in their non-patient operations. 
Quest Global
Turning 25 this year, the organisation is honouring its commitment to sustainable development by planting 25 trees for each of its employees. The activity commenced on World Environment Day.
The engineering services firm has pledged to plant 500,000 trees globally by 2025. The project will have three phases until 2025; with phase one kicking off on World Environment Day on June 5 and concluding on Earth Day in 2023.
The Quest Global Pledge – a global reforestation drive – is rooted in a multi-year partnership with the NGO One Tree Planted. Through the partnership, the organisation will not only ensure plantation of half a million trees, but will also see to it that the trees are native to their environments, and that they will be nurtured and monitored over time.
Quest Global's Chairman and CEO Ajit Prabhu says: 'It's simple. To make the planet habitable for future generations, preserving and expanding our forest cover is critical. We are in the business of engineering, but what we are really building is a brighter future. The Quest Global Pledge is our way of building a brighter future – by creating an environmental imprint that lasts for generations to come.'
The Quest Global Pledge is aligned with United Nations Sustainable Development Goals (UNSDG) Goal #15, Life on Land. The goal aims to protect, restore and promote sustainable use of terrestrial ecosystems and sustainably manage forests.
Tata Tea
The company launched its latest edition of #JaagoRe, with the objective of explaining how climate change impacts each one of us and highlighting how it will affect future generations. By making it personal and relatable, it hopes to inspire people to make small behaviour changes and take simple actionable steps together.
In its 15th year, the Tata Tea Jaago Re platform with a new TVC brings back actor Pankaj Tripathi, who was a part of the first Jaago Re communication. Released on World Environment Day, the TVC showcases the fact that while a few degrees of heat can disrupt the comfort in our home, we may still be callously apathetic about the rapid climate change the world is witnessing, evidently through weather disruptions. The key message of the film is delivered through the lens of a child, thereby serving as a pressing reminder for all parents to act now against climate change, lest it becomes too late to protect the future of our children.
A microsite (Jaagore.com) allows individuals to pledge their support as well as provide information on small everyday actions that one can take in the fight against climate change.