Telling the tale: So as to document the 'change' in the lives of communities – the beneficiaries of social projects of companies and non-profits
In Focus: Jindal Stainless Foundation
Enabling entrepreneurs

Kshanaprava Nayak
Kshanaprava Nayak – daughter of Pramod Kumar Nayak from a remote rural village in Odisha, Kumbhiragadia – started working with JIIT Skill Training Centre in July 2017. She has three sisters and a brother. Her father is a primary school teacher and mother a housewife. Her father treats all his children equally and made sure they all had good education.
After completion of B.Tech in Computer Science and Engineering, Kshanaprava worked as a software designer and developer at Bhubaneswar and Ahmedabad. She came back home during 2017 and joined JIIT Computer Education Centre as one of the faculties. 
Kshanaprava involved herself in the training centre and learnt all the processes such as teaching, imparting soft skills, mobilising and counselling parents and students, and admission campaign. Looking at her talent and capabilities, she was given the opportunity to manage the centre in self-financing mode, with support from Jindal Stainless Foundation (JSF).  
On 1 January 2019, the JIIT centre was shifted from Trijanga Rehabilitation Colony to Danagadi proper. Here, in partnership with her colleague, Kshanaprava registered the centre as an MSME.
While the Covid-19 pandemic and the nationwide lockdown derailed the centre's operations, Kshanaprava did not give up. She decided to revive it and did so with the help of JSF's CSR field staff and students. Since around 20 students from Duburi area were unable to commute to Danagadi due to lack of access to transportation means, Kshanaprava decided to open a satellite computer education centre at Duburi. 
This journey of Kshanaprava continues and is a great example of what initiative and self-belief can achieve with a little help and the right guidance at the right time. 
Sangita Das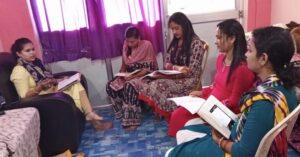 Sangita Das, 30 years, comes from a lower middle class family in Jajpur, Odisha. She lives with her parents and brother. Her father lost his job at the local plant. Her mother is a housewife.
Sangita decided to build her career in the field of beauty and wellness. In 2014, after her graduation, she joined Jawed Habib Beauty and Wellness Training at Cuttack. Thereafter she was identified as a trainer by Sambhav Foundation, which was the executing NGO partner to run the beauty and wellness training course of Jindal Stainless Foundation. Sangita successfully trained 184 trainees.
After the agreement with Sambhav Foundation was over, Sangita was offered the opportunity to operate her own training centre. With the necessary infrastructure support in place, she opened her beauty and wellness centre at Danagadi. She has employed two girls at the centre and charges Rs 10,000 per trainee for the six-month course. 
Sangita not only provides skill training but also motivates the trainees to become entrepreneurs. So far, she has placed 10 students in different parlours and encouraged 5 students to open their own parlours.
Meerabai Women's Self-Help Group
Swarnalata Pal
Thirty-five-year-old Swarnalata and her husband, Rankanidhi Pal, were very poor and living in a thatched house in their village, Manatira. They have three daughters and a blind mother to take care of. Her husband was a tailor in the rural village and was earning a paltry sum. They were simply unable to make ends meet. 
Swarnalata was one of the 10 women who became members of Meerabai SHG. They attended many training programmes on bookkeeping, accounting, food processing, agarbatti and candle making, papad and badi making, dairy, goat and sheep rearing, phenyl preparation, mushroom cultivation, etc. 
Swarnalata went on to become the master bookkeeper of the SHG. She took up mushroom cultivation and badi making as business activities, and not only could afford her children's education but also built a pucca house. 
About the project
Meerabai Women's Self-Help Group was formed by Jindal Stainless Foundation (JSF) in 2010, in Danagadi Block of Jajpur District, Odisha. The various income-generating activities have played a huge role in improving the socio-economic condition of the group's members.
JSF has provided the required training and organised capacity-building exercises for the members so that they can come out of the vicious cycle of poverty and indebtedness. JSF believes that women have the innate capability to grow and become self-reliant. The only intervention needed is to develop their confidence by helping them learn soft skills so that they can improve their livelihoods. Various types of training sessions were organised for the SHG members, on badi and papad making, snacks preparation, goat and sheep rearing, phenyl, agarbatti and candle making, poultry farming, mushroom cultivation, etc. 
 Badi business as an agro-processing enterprise model has helped the women in generating high income and utilising the money towards their children's education, adding value to their nutritive diet by purchasing better food items, etc. This has checked malnourishment amongst the children. 
The members of Meerabai SHG have not only pulled their families from the cycle of poverty and indebtedness, but also created a niche in identifying and empowering themselves politically, economically, and socially in the village and in the region. The SHG has been providing microcredit to its members which was a daydream some 15 or 20 years back. The microcredits have been constantly providing employment and additional income to the members. The nexus of moneylenders in the villages is not prevailing anymore. 
Other members who came in contact with the Meerabai group are now moving towards improving their lives. As a matter of fact, members of Meerabai SHG are today recognised as master trainers. They have been chosen by Odisha Livelihood Mission to train other women SHG members in various districts. The SHG has also extended its support for the successful implementation of various government schemes in their village and gram panchayat. 
This feature is part of CauseBecause's continuing endeavour to understand, facilitate and document impact of social projects.