One of the country's more ubiquitous companies, Mahindra also happens to be one of the most active and visible so far as corporate social responsibility (CSR) is concerned. Much before the famous CSR ruling of the 2013 Companies Act came into existence, Mahindra had pledged 1 per cent of its PAT to CSR activities in 2005. In 2014–15, its total CSR investments exceeded Rs 2,000 million.
Mahindra's CSR objectives are twofold: it seeks a unified approach under its overarching 'Rise for Good' mission emphasising high-impact, focused projects targeting its chosen constituencies, while ensuring a certain degree of commitment from every part of the organisation.
The CSR commitment
Mahindra believes that education is the key to solving the nation's many social problems and its CSR policy and expenditure is designed around this principle, public health and environment being the other two important priority areas. Its primary target groups are girls, youth and farmers, and its interventions are constructed to benefit them – the same is articulated in its CSR vision. Aside from this, Mahindra also invests in the following areas as part of its broader CSR outreach: eradicating poverty and malnutrition, empowerment of women, promotion of art and culture, initiatives for armed forces and war widows, sports, contribution towards funds aimed at SCs/STs and other marginalised sections, technology incubation, and rural and slum area development projects. However, as can be concluded from their annual sustainability reports, not all of these areas witness sufficient investment of time or resources.
The company also works in tandem with KC Mahindra Education Trust (established in 1953), Mahindra Foundation, Mahindra Education Society, Tech Mahindra Foundation, and Naandi Foundation. Additionally, Mahindra partners with NGOs (subject to specific criteria) and other companies for implementation of specific initiatives.
Aside from the standard board-level CSR committee, Mahindra also has a CSR council reporting to it; senior executives are members of the council. The council is responsible for evaluating and approving CSR (specifically, philanthropic) projects that may be submitted by NGOs and other not-for-profit organisations as well. An important principle that this council professes to follow is quality over quantity and, hence, it constantly reviews the progress of all CSR projects. In order to do this, it has the authority to direct the CSR department or a third-party independent agency to carry out the required impact analysis. This council also oversees the expenditure of 1 per cent of the total 2 per cent mandatory spend on CSR; the balance is managed by various group companies. A separate sustainability council approves initiatives on the sustainability front, focusing on environment, social and governance (ESG) parameters.
Mahindra's key CSR programmes reflect its priorities:
• Scholarships and grants: These are provided to meritorious students who face financial constraints in pursuing their education, specifically to students from low-income groups for vocational training or those who wish to study overseas in reputed institutions. Notable among these are the Mahindra All India Talent Scholarships and KC Mahindra Scholarship for Post-Graduate Studies. Some of them also get scholarships to study in Mahindra United World College in Pune which has students from countries across the world and is housed in a biodiversity reserve.
• Nanhi Kali: Launched in 1996 and jointly managed by KC Mahindra Education Trust and Naandi Foundation, this is one of the flagship programmes and focuses on education of the girl child from underprivileged sections of society. Collaborating with 19 NGOs, it operates in nine states in India. Until 2014 more than 100,000 girls were educated in total, and to date, over 12,000 students have completed Grade 10. Attempts are also made to involve the larger community to which these girls belong and educate them on the need for education and gender equality. This is especially important as without the support of the family and society it is difficult for a girl child from a poor household to transcend the limitations of her circumstances and actually realise her personal ambitions. Efforts are made to track the progress of the students who seek to pursue higher studies.
In 2015, 33 Nanhi Kalis received scholarships to undergo livelihood training at Mahindra Namaste, where they could choose to be trained in customer relationship management (CRM), information technology-enabled services (ITeS), or hospitality. It goes without saying that there is tremendous potential for this number to be significantly increased. Interestingly, many of these children are supported through Mahindra's own employees and the programme has seen partnerships with industry competitors such as Capgemini – this hopefully can become a trend in CSR in India.
• Mahindra Pride schools: These provide end-to-end livelihood training in vocational areas like hospitality, sales/CRM and IT, to young people from disadvantaged sections, including SCs, s and, other tribes. Students are assigned courses depending on their aptitude and interest. Launched in 2007, over 14,000 students have been trained to date with 100 per cent placement and average salaries hovering around Rs 11,000 per month. Currently, these schools are located in Pune, Chennai, Chandigarh, Patna and Srinagar.
• Lifeline Express: Set up in partnership with Impact India Foundation, this is the world's first hospital on rails and provides health services, including cataract removal and cleft lip and deafness correction, to people in rural areas that have little or no functioning healthcare system, servicing nearly 40,000 till the FY 2014–15. Mahindra also regularly organises medical camps and workshops on HIV/AIDS, dental care, etc., and runs an ambulance service in many states along with the Emergency Management and Research Institute.
• Project Hariyali: Under this initiative, Mahindra commits to planting a million trees every year. In FY 2014–15, over 1.5 million trees were planted.
• ESOPs: The principle behind ESOPs, or employee social options, is to make CSR a core value of every team in Mahindra and provide a vehicle for employees to 'give back'. Employees are encouraged to participate in initiatives like health camps and youth skills development through this programme—common enough among most large corporate entities. These initiatives may be ongoing or one-time and are typically targeted at the elderly, disadvantaged and rural populace. Many of these are designed to cater to specific local needs, such as a 14-day programme for women in the automotive plant in Mumbai to develop their personal skills. Since 2006, over 1 million ESOP man hours have been dedicated to various projects, a reflection of the importance given to this programme.
• Disaster relief: Mahindra regularly makes contributions to disaster relief and rehabilitation programmes, either through charitable funds or rebuilding necessary infrastructure in affected areas.
• Art and culture: The company supports numerous cultural festivals in film, theatre, and music as part of its broader effort to promote art in the country. The Mahindra Excellence in Theatre Awards, Mahindra Blues Festival and Mahindra Lucknow Festival are a few examples.
• Sports: At the local level, Mahindra supports community basketball and football leagues and provides much-needed sporting infrastructure (for example, Project Ankur in Nashik) and financial aid. Unfortunately, Mahindra United Football Club was disbanded in 2010 despite its success and fan following. In lieu of this, the company launched a community-based basketball league with the NBA. However, the association had seemingly ended by 2014.
Aside from the Pride schools, Mahindra runs other schools in its areas of operation. For instance, Mahindra Lifespaces has set up Gyandeep at its sites – Delhi, Pune, Nagpur and Jaipur – to provide education for the children of construction workers.
In terms of analysing the impact of their interventions, Mahindra utilises milestones and standard impact indicators. As examples, Project Nanhi Kali tracks the improvement in learning outcomes of the girls as well as the dropout rate; Mahindra Pride Schools monitor the placement numbers and the average starting salaries; third-party audits are done to measure the average survival rate of trees under Project Hariyali; and the Lifeline Express project tracks the number of surgeries carried out and the total number of beneficiaries. It will be useful, though, if the company discloses these numbers on a regular basis.
On sustainability
One of the core tenets of Mahindra is environment sustainability and towards this it has invested time and resources in the past eight years, resulting in its adoption of the triple bottom-line approach to reporting – that is, profit, people and planet. One of its long-term goals being doubling the group's energy productivity, Mahindra believes that sustainability is a business driver and has strived to institutionalise it within the company. Exemplifying this is the fact that three of its group companies – Mahindra & Mahindra (M&M), Mahindra Finance, and Tech Mahindra – have featured in the Dow Jones Sustainability Index 2015. M&M also has a Level 1 rating for governance and value creation from CRISIL for three years in a row, and both Tech Mahindra and M&M are among the top 10 companies on the Carbon Disclosure Project (CDP) listing.
Mahindra's current Businesswise approach to sustainability is to encourage each of its businesses to pursue issues core to its functioning and expertise, have customised roadmaps tailored to their specific businesses, and incentivise them to set new benchmarks. The idea behind this is that the cascading effect from various teams will create truly transformational change at an overall organisational and societal level while ensuring increased focus and accountability. This method is a fallout of its 'alternative thinking' approach to sustainability. Yet, although there are representatives from its various business groups within the CSR and sustainability councils, this approach can have the unintended consequence of creating silos within the larger entity that is Mahindra.
Targets were set for each business entity in 2013 (seemingly benchmarked with similar organisations across the globe). Groups like the automotive and farm division had already met its two-year targets in the first year itself, some of which included reduction of carbon and water footprint, use of renewable power, and energy-efficient projects. For others like Mahindra Finance and Tech Mahindra, targets included reduction in power consumption and carbon footprint, and community development programmes.
In a similar vein, Mahindra's product innovation mantra is to achieve organisational profitability, environmental responsibility, and social accountability. It seeks to explore alternative fuel technologies, green living and large-scale solar projects. Mahindra's mobility products necessarily have to pass the 5C test: clean, convenient, connected, clever, and cost-effective.
Examples include Reva, the GenZe electrical scooter, and India's first CRDe tractor, which offers better fuel efficiency. Mahindra Lifespace Developers is required to construct only green buildings certified by Indian Green Building Council (IGBC) Green Building Rating System. Mahindra Susten, which is the clean technology arm of the group, is dedicated towards developing alternative energy. It already has a portfolio of over 350 MW of solar projects in both utility and rooftop, and has been instrumental in pioneering two solar solutions for consumers – the solar generator and the DG-PV hybrid system. Its early efforts are encouraging even though it remains to be seen if it is allowed to become a true trendsetter in the sustainability space – after all, market economics don't always take a long-term view.
Although a good part of Mahindra's operations are based in Maharashtra, which is one of the most adversely affected states in terms of drought and farmer suicides, its farm division has been somewhat lacking in tangible responses to this crisis. The current focus is on training farmers in modern farming practices which while admirable aren't exactly a solution for the millions of destitute farmers. Even then, Mahindra happens to be one of the few companies which provide a complete set of farm solutions and its farm division has undertaken numerous initiatives in the rural areas. Some of those are AppliTrac, which looks at the end-to-end value chain of farm mechanisation solutions – from land preparation to post-harvest solutions; Samriddhi, which empowers farmers through easy access to modern farming technologies, market linkages, and knowhow; and Vijay Vidharba, which trains farmers in effective farming practices. One of the more innovative projects is Mahindra MPowered Village, implemented by Mrida, a social business venture. This involved setting up of two solar micro grids in Belwa village near Kushinagar in Uttar Pradesh. Each household in this village, which hitherto did not have any access to electricity (a common travesty in rural India but that's another story), was provided with two LED bulbs and a mobile charging point. A small connection fee and a monthly charge go towards a Village Development Fund managed by a Village Development Committee (VDC). Similar work has been done in Jhajjwa village as well.
In line with its commitment towards a green environment, Mahindra regularly spends millions on environment management (INR 63 million in FY 2014–15). This includes waste disposal, treating chemical waste, and controlling air pollution. Mahindra achieved 'water positive' status during FY 2013–14 with total water savings of 8.4 cubic billion through the offset mechanism, and energy savings of over 102 gigajoules (one GJ is equal to a billion joules). Year-on-year reduction in ozone-depleting substances, GHG emissions, and energy and material consumption has also been achieved. In another sign of their commitment towards eco-friendly practices, the head offices of Mahindra Vehicles and the Tech Mahindra campus in Hinjewadi have been designed as green buildings with minimal usage of resources. Reva's manufacturing plant is India's first IGBC platinum-rated automobile facility; a zero water waste automobile factory has been established at Chakan. In watershed management, Mahindra has partnered with the Madhya Pradesh government for water and soil conservation and increasing water for irrigation to improve agricultural productivity and green cover.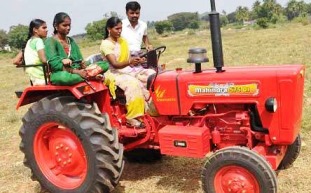 Adopting a village is another area that the company has done some work in although not extensively. Mahindra Logistics has adopted a village named Aware in Shahpur Taluka in Thane district in Maharashtra. This includes a three-year plan that features an improved infrastructure, setting up of schools, and provision of nutrition and healthcare.
Although it is the largest NBFC operating in rural and semi-urban India, financial inclusion is one area where Mahindra can do much more – for instance by providing customised financial services to the poor who are generally underserved by banks.
Mahindra Foundations and achievements
The company has numerous foundations and trusts that work as its de facto CSR arms. KC Mahindra Education Trust's flagship programmes are Nanhi Kali, Mahindra Pride schools, and scholarships and grants, helping over 100,000 students in the process. Mahindra Foundation primarily focuses on disaster relief and medical assistance and has chapters in the United States and the United Kingdom as well. Tech Mahindra, on the other hand, works mainly on the three areas of school education, employability, and technical education, and runs over 150 projects across India. On the school education front, Arise is the programme through which schools are adopted for overall improvement; Shiksha Samvardhan targets school dropouts; and Shikshaantar works with teachers for their skill enhancement. The main programme under employability is SMART, which works with disabled people and underprivileged youth for vocational and on-the-job training. Currently, over 65 centres are running in 10 locations across the country.
Mahindra has been dabbling in a few offbeat projects including the Spark the Rise Prize, which offers a $1 million award for groundbreaking technology and scientific innovation from India. In 2014, the first phase on solar and driverless cars was concluded. Another untapped CSR space where Mahindra has made inroads is funding of tech incubators which, as per the 2013 Companies Act, is classified as CSR activity. Sickle Innovations, a farming solutions for small farmers, got Rs 18.5 lakh in CSR funding from the Rs 25 lakh grant Mahindra Financial Services made to CIIE at IIM Ahmedabad. Sustain Earth, a start-up incubated by Villgro which is approved by the Department of Science and Technology (DST), received Rs 23 lakh. It will be interesting to see if the company invests in more such start ups – if it does, it will certainly be a welcome deviation from the usual CSR practised by most Indian firms.
Closing thoughts
While Mahindra has done plenty of laudable work in the CSR and sustainability space, opportunities for improvement remain. While a conglomerate of this size is bound to have silos, reading about the vast number of disparate initiatives taken up by the different Mahindra companies does make one wonder if some sort of coordination and alignment of certain programmes might help to make them deliver better results, allocate resources efficiently, and cut down on the low-impact, high-investment projects. While the businesswise approach does have its merits, it is well recognised that in CSR the emphasis should be on a limited number of high-impact, long-term programmes, especially since the idea is to meaningfully transform the communities that these companies work in and benefit from. There is a potential balance that is waiting to be struck between the two approaches, which are not necessarily antagonistic. On sustainability, while the three-year targets is laudable, the goal should be to compare with any best-in-class company in the world when it comes to the people and planet part of the triple bottom-line assessment. For a true commitment towards a greener earth, moving the goalposts frequently is desirable.
While a conglomerate of this size is bound to have silos, reading about the vast number of disparate initiatives taken up by the different Mahindra companies does make one wonder if some sort of alignment of certain programmes might help to make them deliver better results, allocate resources efficiently, and cut down on the low-impact, high-investment projects. It is well recognised that in CSR the emphasis should be on a limited number of high-impact, long-term programmes, especially since the idea is to meaningfully transform the communities that these companies work in and benefit from.
Interestingly, unlike his corporate counterparts in the global North, Anand Mahindra does not believe in the Gates and Buffett school of corporate philanthropy. His take on it is that India 'need(s) a billion givers rather than a billion dollars by a single giver'. One might ask if there is any reason why both can't coexist together. Surely, there are enough causes to which a billionaire as well as a billion givers can contribute. While there are issues with the philanthropy of the rich (unaccountability, too much power over democratic institutions and public policy, etc.), it can, in a limited way, be an effective change agent.
Having supported tech incubators, it would be interesting to see if Mahindra can come up with innovative interventions in education, which is its main focal point. While the Nanhi Kali and Pride schools have done much good, they help individuals and cannot be effective or scaled up beyond a certain point. For such programmes to be truly transformative, they have to tackle the root causes of why a Pride school is even needed and target a systemic change. This cannot be achieved solely by one organisation, of course, but the time is ripe for some out-of-the-box solutions.
In a country where the corporate behemoths are still figuring out how to do CSR, Mahindra is easily leading the pack. The challenge now is to set outstanding and groundbreaking examples that can change the way we think about CSR.